€2.300
Your wishlist has been temporarily saved. Please Log in to save it permanently.
Description & Details
Give your hand a splash of sparkling white diamonds. Combine it as you like.
Material
18 karat rose gold
Prefer another color gold or gemstone?
Bron jewelry is made of 100% recycled 18 carat gold
Our gemstones are hand-picked based on quality, color, and personality
Our family business has been seated in the Netherlands for many generations
Bron jewelry is crafted with heart and soul in our Schoonhoven atelier
Our purpose is to delight our customers with the best service
As its name suggests, the Lux family offers a wide range of "luxury essentials" such as high-calibre bracelets, classical earrings, and timeless necklaces. Naturally all in 18 carat gold.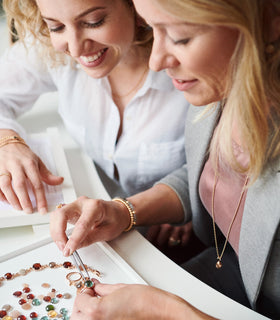 Finding the right Bron jewel
This is just a small selection of our jewelry offer. Almost all pieces are possible in our three gold colors and with various gemstones.